Company List
When you receive your credentials, we will have entered your company into the Companies List (1). you can open the company's page with the arrow (2) button and edit the details. Please make sure that your delivery addresses have been entered, as these addresses will be required during the setup process.

Company Profile Settings
Your company profile is located on the Settings (1) page below under Profit Centres. A Profit Centre is the Trading Name for your company and is a collection of settings that manage how your company information appears on your quotes and jobs.
Most companies only have one Profit Centre, which has already been added. However, you can add additional Profit Centres if you have other locations with different Trading Names and branding.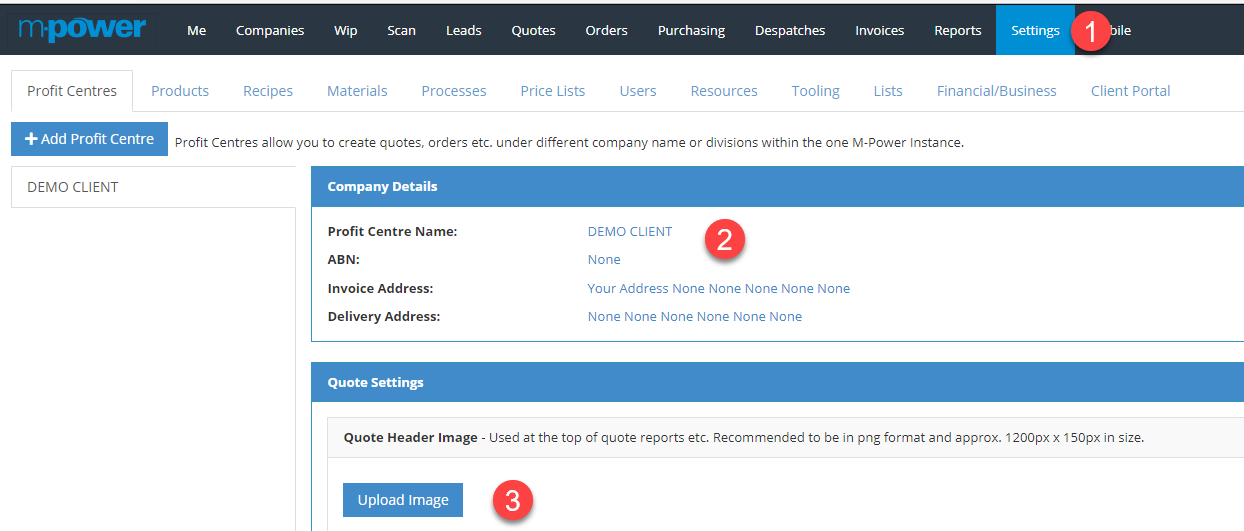 Enter your Profit Centre Name (2) by clicking on the blue text. Next, enter your ABN and select your company address from the dropdown box. If your company address is not on the dropdown list, it will have to be entered into the company's details area.
Quote & Document Images
The headers for your transactional documents (quotes, invoices, purchases orders) are created as an image file (JPG or PNG) and uploaded using the Upload Image (3) button. The recommended size of the image is 1200 x 150 pixels, and this can be created using a drawing package like Adobe Illustrator or any online tool like www.kapwing.com.
Quote and Document Text
The content of quote letters can be set up in the Quote Intro Text, Quote Footer Text, and Quote terms Text sections of the page. In addition, a list of placeholders that allow you to fill the letter with the clients and quote information from the quote is found under Available Fields. For instance, if you enter ~QUOTE_DATE~ into the text, it will be replaced with the date you created the quote.