It can be difficult to manage work-in-progress when your work is predominantly large projects containing many small value custom items.
The challenge is to:
determine how much capacity is required overall (people or machines)
determine how far through the project you are
understand which items have been forgotten, lagging on left behind
Our recommendation is to
ensure that each item in the project is linked to a recipe
that staff scan each process in the recipe when that process is completed
Recipes
We recommend that each item in the job is linked to a recipe. Recipes allow you to track and cost the manufacturing of the item. The 'linking' is created when you set the item up. The recipe should contain processes which have a time cost element to them or are significant benchmarks in the workflow
Scanning
The normal process of scanning off and on each process within a recipe will work fine but requires a lot of scanning activity if staff are completing tasks in a short time. It is also difficult to scan off and on processes which are 'batch processed' for instance, when multiple items go through a printing process at the same time.
For these reasons we recommend the following method
print out a jobcard which lists a page of processes for each item.
As each process is complete, scan the process barcode into the 'process complete' barcode field

This will open and close a timing record, register the task as 'complete' and index the process onto the next task within the workflow.
Reporting
By reporting on the number of open processes within the workflow we can see the progression of the project at a granular level
By reporting on the number of completed items we have a quick reference to the project progression
Job Costing
Productivity is determined by the OUTPUT of a person, section or machine relative to the time taken (INPUT). We believe it is most insightful to calculate the OUTPUT as the 'predicted time or predicted value' of the task completed.
When each task is completed we record the predicted time and value as OUTPUT
By looking comparing the OUTPUT across people, departments and processes for a given payroll time period (day, week, month) we can clearly see areas that are resulting in low productivity and these can be investigated. If estimates are accurate, the aggregated predicted time approximates the hours worked by a staff member (allowing for downtime). Conversely, many hours worked for little output value suggests a costing issue.
PROCESS
1. Ensure that each item in the job has a recipe attached, only these will be tracked through work-in-progress



2. Print the jobcard containing the process lines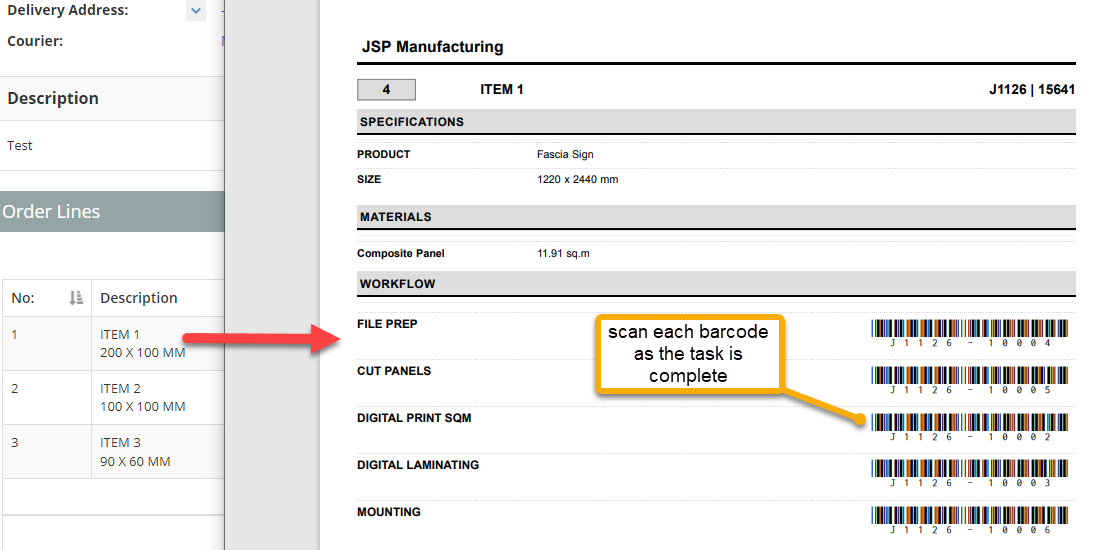 3. Scan each barcode as the task as completed